Kia Telluride vs Honda Pilot

---
The 3-row daily driver market is getting even more competitive, with both the Kia Telluride and the Honda Pilot as available choices. Which one is right for Louisville and Elizabethtown, KY, and Clarksville, Indiana, go-getters? The Kia Store compiled this Kia Telluride vs. Honda Pilot comparison to help you figure that out.
Read on as we explore the interior space, rugged performance, and capability specs as well as the technology and safety that's available in both options.
Contact our team if you have any questions!
Learn more in the Kia Telluride Review!
---
Interior Space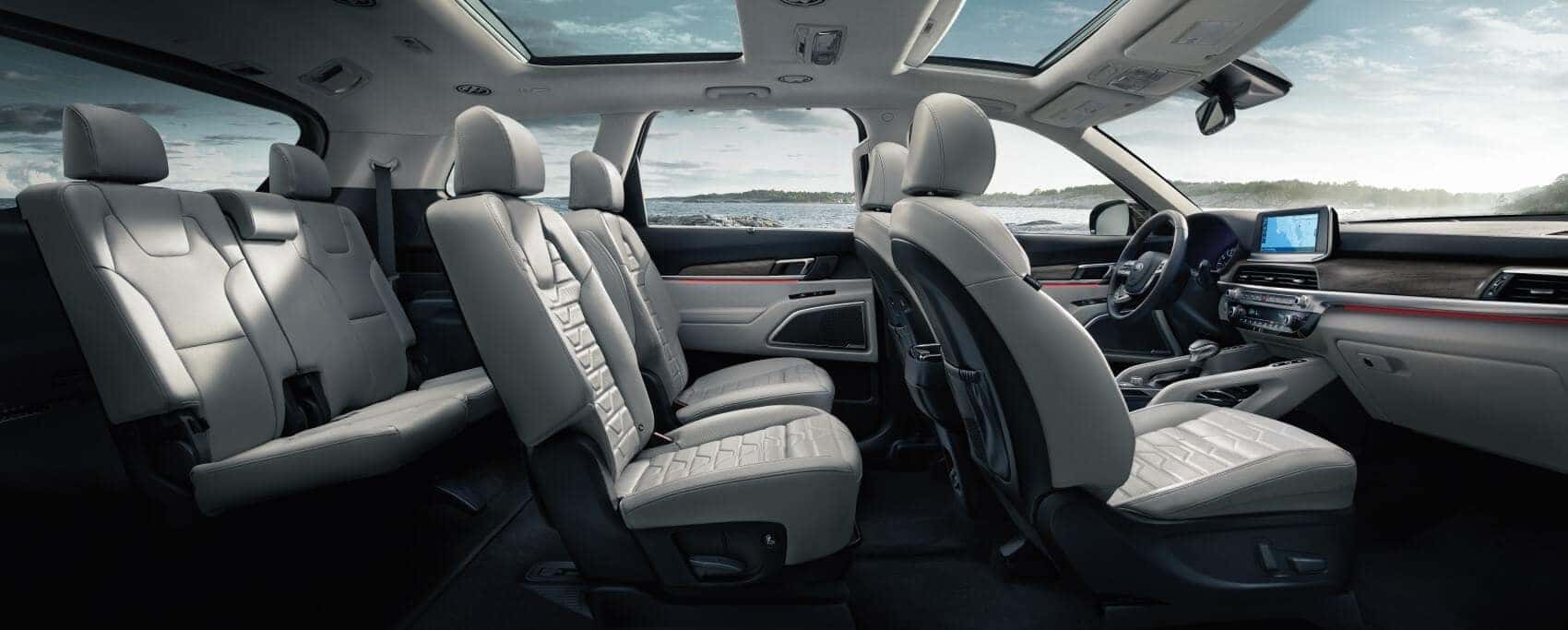 The Kia Telluride and the Honda Pilot both offer seating for seven or eight, depending on which configuration you choose for the second seat. This is a common theme in 3-row models across the market.
However, these models often differ in the amount of passenger space each row gets. That's true when comparing the Telluride vs. the Pilot. The Kia SUV offers a generous 178.1 cubic feet of total passenger volume, compared to only 152.9 cubic feet in the Pilot.
This difference is most noticeable for those sitting in the second row, which offers 42.4 inches of legroom in the Telluride. The second row in the Pilot is a little more cramped, with only 38.4 inches of legroom.
The Kia Telluride continues to excel when it comes to cargo space, allowing you to load 21 cubic feet of gear behind the third row. There is only 16.5 cubic feet of space behind the third-row seats in the Pilot.
Fold the second-row and third-row seats flat in both vehicles and the Telluride still has more cargo space than the Pilot. The Telluride offers a maximum of 87 cubic feet of cargo space, while the Honda model offers a maximum of 83.9 cubic feet.
Related Post: Kia Telluride Trim Levels Review
Rugged Performance
At first glance, both models offer rugged performance—but only one delivers on that promise.
The 2021 Honda Pilot has silver-painted bumpers that imply the ruggedness of a skid plate. Unfortunately, they don't offer the same protection a skid plate does. Meanwhile, the Kia Telluride comes equipped with front and rear skid plates to help protect its underbelly when off-roading. The Kia Telluride also has a higher ground clearance, further helping it stay protected from obstacles on the trails.
While both models offer a V6 engine across their lineups, the Kia Telluride's engine is more powerful. It generates an energetic 291 horsepower, while the Pilot's engine maxes out at 280 horsepower.
Related Post: Kia Telluride Interior Review
Capability
If you're hoping to find decent traction on these machines, you will be happy to see that both offer all-wheel drive systems for that extra stability. However, the Kia Telluride offers a Lock and Snow Mode to help drivers adapt to any slippery road conditions. The Honda Pilot features an Intelligent Traction Management System that has a Snow mode; however, this system is not available on its base trim.
Both the Kia model and the Honda model can harness towing power in order for drivers to transport different items in a trailer. However, the Kia Telluride offers a bit more strength at a maximum towing capacity of 5,000 pounds. The Honda Pilot, on the other hand, only reaches 3,500 pounds on its front-wheel drive option. You'd have to upgrade to all-wheel drive in order to find a comparable 5,000 pounds of capacity.
Tech Features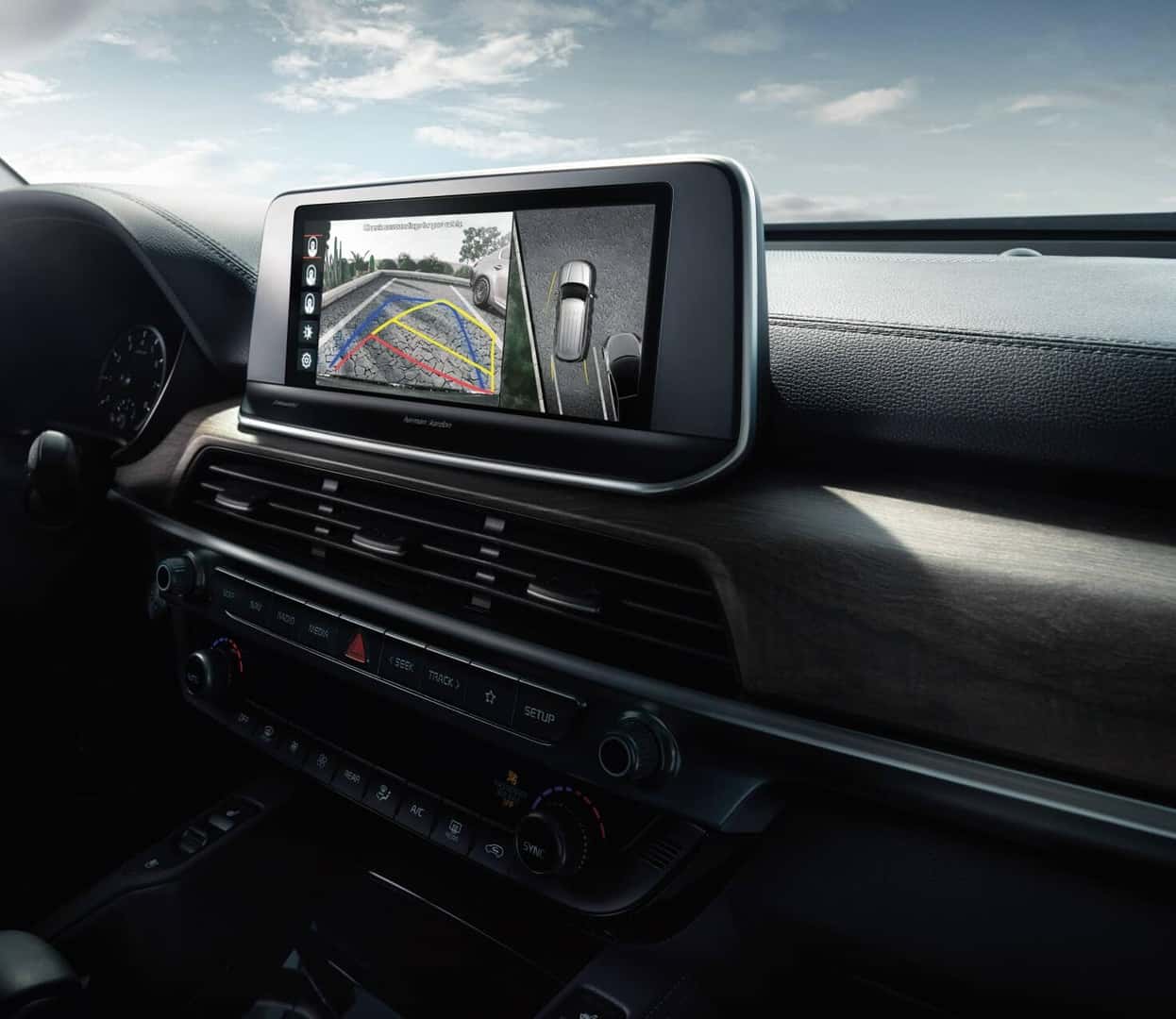 When your rear-seat passengers finally fall asleep, the Telluride offers a peaceful cabin. Simply press a button to enable Quiet Mode, which focuses audio from the sound system on the first row. That way, you can continue listening to your sports game or podcast without waking up sleeping passengers. This feature is not available in the Pilot.
When you arrive at your location, you may want to alert your passengers that you're there. On the Telluride, Driver Talk will let you speak through a microphone to those in the rear rows so that they can hear you clearly. As with Quiet Mode, this feature is not on the Pilot.
High-tech features aren't all about convenience—they can make the drive more interesting, too. That's what will happen when you opt for available 64-color interior mood lighting in the Telluride, which adds a nice touch to the interior. The Pilot only offers one color of interior ambient lighting: blue.
Further interesting features can be found on your front display, which on the Kia Telluride is a standard 8-inch touchscreen. The Honda Pilot only features a 5-inch LCD screen. The Telluride provides an upgrade to a 10.25-inch touch-screen, while the Pilot's upgrade is to an 8-inch one.
Accessible apps on the Telluride include both Apple CarPlay® and Android Auto™. However, these are not standard on the Pilot.
Safety Features
Both models come standard with a variety of high-tech driver-assist features, like Lane Keeping Assist and Forward Collision Warning. However, there are a few notable additions that are only standard in the Telluride:
Driver Attention Warning senses drowsy driving habits and nudges you to take a break
Rear Occupant Alert makes sure you don't forget anyone in the back seat
Safe Exit Assist helps prevent you from opening the door into oncoming traffic
In addition, the Telluride features standard Blind Spot Detection as well as Rear Cross-Traffic Collision-Avoidance Assist. Unfortunately, the Honda Pilot's Blind Spot Information System with Cross Traffic Monitor is not standard.
The Telluride continues with advanced available safety through its Blind-Spot View Monitor. Providing more than just detection of possible blind spots, this system allows you to watch them closely. A video feed will become available in your instrument cluster, at which time you can more clearly see any upcoming vehicles on your passenger side. No such available feature can be found on the Pilot.
---
Learn More About the Kia Telluride
Not only does the Kia Telluride put the "utility" in Sport Utility Vehicle but it also offers a fun drive. In addition, its available advanced safety features will provide abundant protection to both you and your passengers.
That's why The Kia Store recommends this model for Louisville and Elizabethtown, KY, and Clarksville, IN, drivers.
Contact us today, if you want to learn more about the Kia Telluride or to take it for a test drive!
---