2019 Kia Sedona Review

The 2019 Kia Sedona has a lot to contribute to growing families making their way through the Louisville, Elizabethtown, and Clarksville areas. If a minivan with a variety of benefits is exactly what you've been needing, read through this 2019 Kia Sedona review put together by our team here at The Kia Store. It will cover a few highlights regarding interior space, safety, and convenience.
Quick Facts:
EPA-Estimated MPG: 18 city/ 24 highway / 21 combined
Towing Capacity: 3,500 lbs
Engine: 3.3L V6, 276 horsepower
Transmission: 8-speed automatic

2019 Kia Sedona: The Roomy Cabin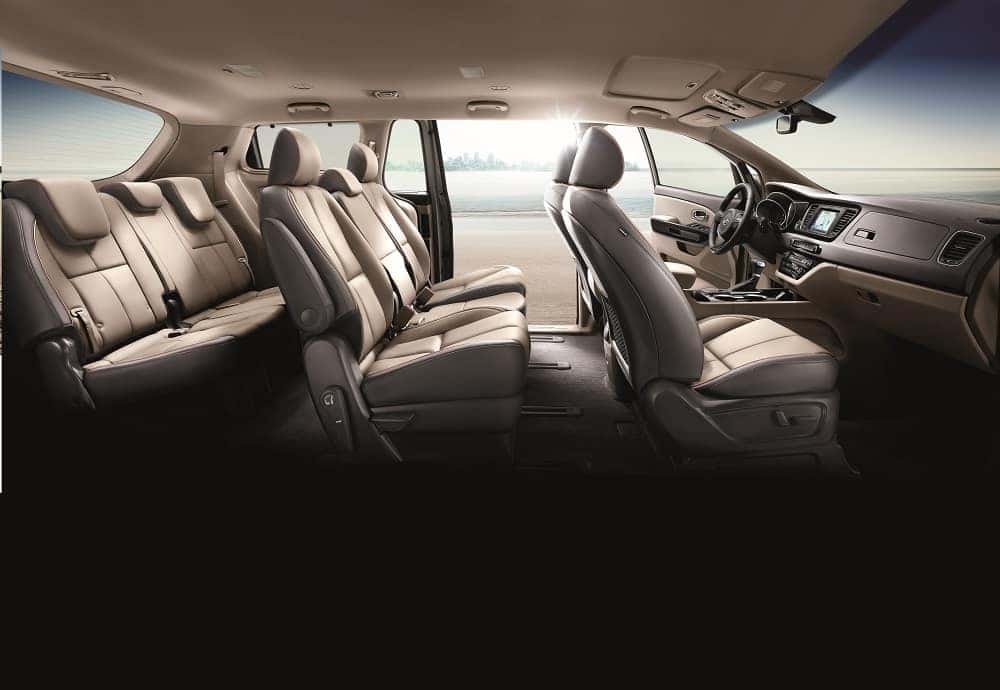 One of the first things you and your family are sure to take note of when you step inside the Sedona is its sheer spaciousness. From front to back, it's sure to have you covered in the comfort department. This is made evident by taking a look at its generous headroom, shoulder room, legroom, and hip room measurements.
In the first row, the headroom comes to 39.8 inches, the shoulder room is 63.9 inches, the legroom is 40.9 inches, and the hip room is 59.3 inches. The second row is just as expansive. It contains 39.4 inches of headroom, 63.1 inches of shoulder room, 41.1 inches of legroom, and 66.1 inches of hip room.
Whether they're your pets, your kids, or your carpooling coworkers, the passengers in the third row are sure to agree that the third row has more than enough space for their needs. Back there, the headroom measures at 38.9 inches, the shoulder room is 59.4 inches, the legroom is 34.8 inches, and the hip room comes to 50 inches.
On top of all of this, the Kia Sedona also supplies you with a satisfying amount of cargo volume that measures at 142 cubic feet to help you make sure you're able to pack in everything you're going to need from camping supplies to your kids' sports equipment.
Advanced Safety Features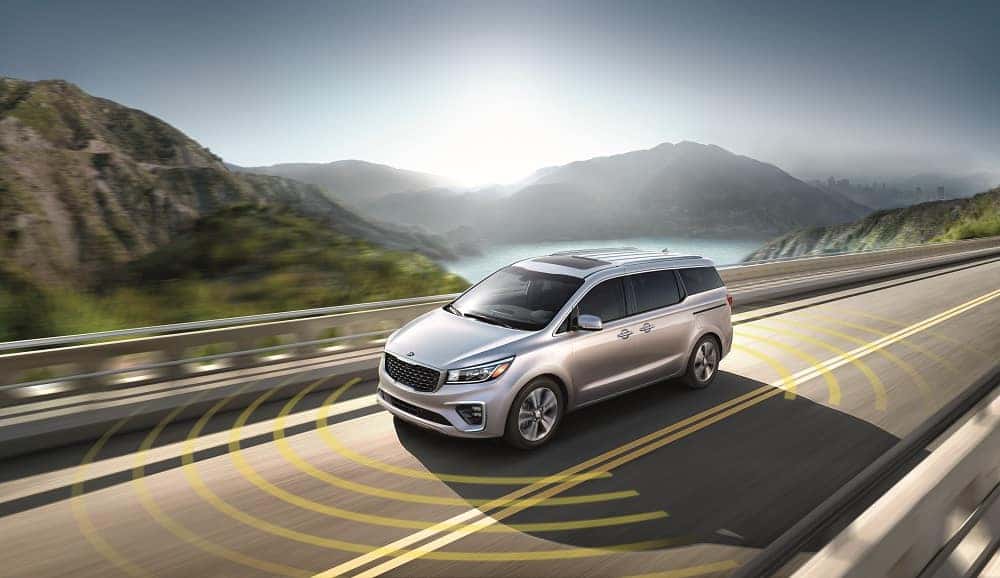 As the driver, you likely appreciate an automobile that provides you with a lot of support when you're behind the wheel. The Sedona certainly has your back in the safety department. For instance, it boosts your awareness with such features as the available Forward Collision Warning and Blind Spot Collision Warning. Plus, there's the available Auto-Dimming Rearview Mirror that effectively prevents you from being distracted whenever bright headlights appear from behind.
Convenient Touches
Another way the Kia Sedona helps out is by giving you plenty of convenient features. For instance, the Wireless Phone Charger keeps everyone fully charged throughout the ride without the need for any extra cords.
The Sedona also makes it possible for you to enjoy your favorite driving soundtrack. First, there are the four speakers that come standard. If you prefer a fuller sound, the 2019 Sedona is available with six robust speakers that include dashboard-mounted tweeters.
Take the 2019 Kia Sedona for a Spin Today
As this Kia Sedona review shows, this accommodating minivan has a lot to offer. Drivers in the Louisville, Elizabethtown, and Clarksville areas who are ready to experience these and other benefits can contact The Kia Store to set up a convenient time to take the Sedona for a test drive.