2019 Kia Sorento Review
Drivers in the Louisville, Elizabethtown, or Clarksville areas who are looking for a third-row capable crossover SUV, with great power and superior technology, should look closely at the all-new 2019 Kia Sorento. This outstanding SUV offers high performance and comfort that one would normally expect only from a luxury badged vehicle.
Kia vehicles have always been known for their personality and driveability, and the latest model of Sorento takes that to the next level. Let's examine closely a thorough review and breakdown of the 2019 Kia Sorento, and learn where you can go to get behind the wheel to test drive one for yourself.
2019 Kia Sorento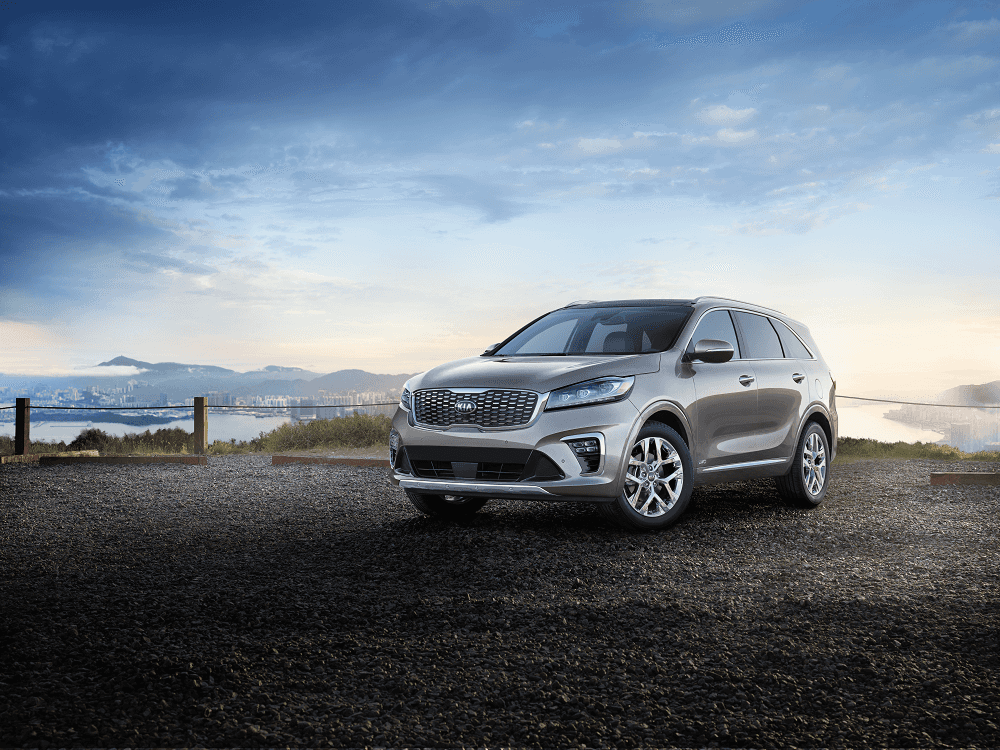 This year, the Kia Sorento gets a number of new standard features, including third-row seating, a welcome upgrade. There are three different engines available, with the base engine being a 2.4-liter 4-cylinder engine, which gives you 185 horsepower and 178 lb-ft of torque.
At higher levels you can get a 3.3-liter V6, which delivers a powerful 290 horses and 252 lb-ft of torque as an option at the LX and EX levels, and standard at the SX and Limited levels. The V6 engine comes with a new 8-speed transmission. Finally, you'll receive revised styling for the exterior, making it look sleeker than ever before.
The turbocharged 2.0-liter 4-cylinder engine has been discontinued for this year's lineup.
Trim Levels and Tech
There are five trim levels available on the new Sorento: the base L, the mid-range LX and EX, the high-end SX, and the range-topping SX Limited. Even at the base level you get features like six speakers, satellite radio, USB port, CD player, and Bluetooth®, so that you've got all the infotainment technology you need right at your fingertips. You also get automatic headlights for improved visibility, and a 7-inch touchscreen with Apple CarPlay™ and Android Auto™ right at the base level.
Stepping it up from there delivers a range of enhanced features, including amenities like heated seats and automatic climate control to keep you comfortable all year round.
Safety-wise, at the EX level you get features like frontal crash warning, lane keeping, adaptive cruise control, blind spot monitoring, and more to help you avoid accidents and to mitigate the severity of any accidents that may happen. It's a very safe vehicle as well as a technologically-advanced ride.
Comfort and Utility
Like all Kia SUVs, the new Sorento is very much fun to drive. There's plenty of space for passengers and drivers alike, and the seats are quite comfortable whether you're heading to the grocery store or taking a long road trip. It delivers a very refined ride with smooth reduction of road bumps and a serene cabin that gives you the kind of serenity you'd expect in a luxury crossover.
The materials in the cabin are top quality, the touchscreen is attractive, easy to use, and very functional. Cargo space measures up to 73 cubic feet when the seats are folded down, and it offers a superior 5,000 pounds of towing capacity when properly equipped.
Drive the New Sorento at The Kia Store
If you'd like to test drive the 2019 Kia Sorento for yourself, The Kia Store can help. Contact us or stop into one of our showrooms today and ask about getting behind the wheel to check out this great 3-row SUV today.