Kia K5 Interior Features

When you purchase a Kia vehicle, drivers need to find an interior that makes them feel comfortable and offers a lot of features that help make it easy to be productive. After all, when you travel, this is where you will spend most of your time. You want to feel like you have complete control and maximum entertainment in your ride.
The Kia K5 is a luxury Kia midsize sedan that offers all of this in a sleek package. In this article, we take a closer look at the interior features of the Kia K5. At The Kia Store, we want drivers in the Louisville and Elizabethtown, KY, and Clarksville, IN, areas to hit the road in style.
---
Taking Entertainment to the Max
When you get inside your Kia, you want to know you have the resources to be informed and entertained every step of the way. The Kia K5 takes this to the next level with more features than ever before.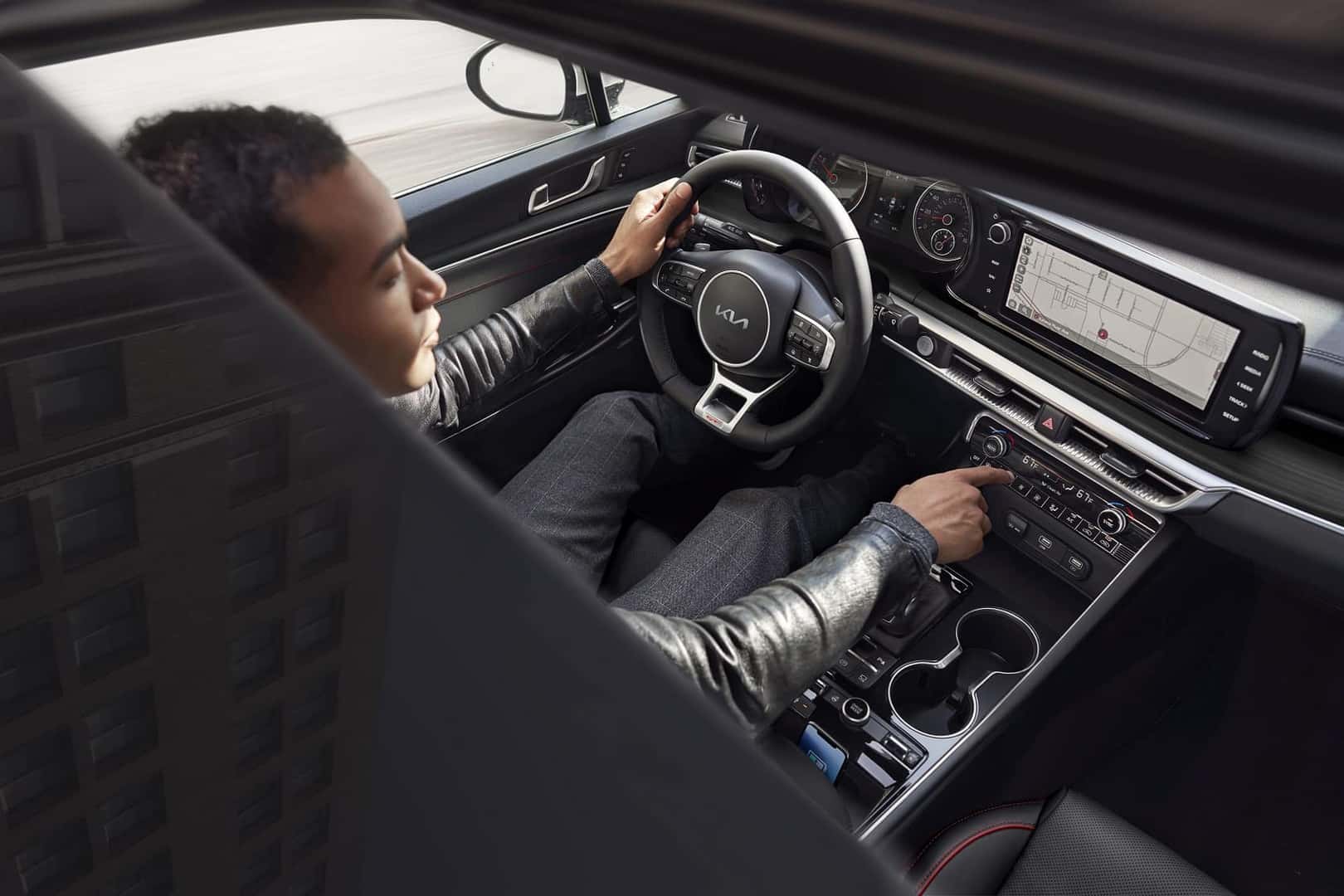 Inside the Kia K5, you will find a standard 8-inch touchscreen and 6-speaker audio system that maximizes your entertainment value. You can easily stay connected with standard Apple CarPlay® and Android Auto™ compatibility and Bluetooth® wireless technology for hands-free phone calls and audio streaming.
This hands-free phone calls and audio streaming does much more than you might expect. When used in conjunction with the smartphone connectivity features, it allows you to send and receive messages without manually typing them. You'll be able to keep your eyes on the road while speaking a message out loud and then have its response spoken to you. If you are someone who tends toward multi-tasking, this feature is right for you.
It shouldn't go unappreciated that the Kia K5 has the capability to integrate both Apple CarPlay® and Auto™ into its infotainment system. Being that it makes the Kia K5 a more versatile ride, having this combability means that a large amount of smartphone users can easily get behind the wheel.
In addition, you can take advantage of multiple available USB ports and have easy access to functions like audio, phone, and cruise control from steering wheel-mounted controls. Those USB ports are going to be great for passengers who need to charge their digital device, as USB charging has arguably become the standard.
Giving so many options to the steering wheel-mounted controls puts an incredible amount of power into your hands. You won't have to go out of your way again to manipulate a feature or option—a simple tap on a button does it all.
---
Spacious Interior and Comfortable Seating
Riding in comfort is certainly important when you are in control and operating your Kia vehicle. However, you want to ensure that your passengers are comfortable as well.
When you slide into the Kia K5, you immediately notice the comfortable design of the seating with standard cloth seat trim. It is easy to move the front seats into the position you need to maximize your comfort with standard 6-way adjustable capabilities on the driver and passenger seats.
The inclusion of standard Dual-Zone Automatic Climate Control means that the driver and passenger can adjust their temperature settings. Making a great seating arrangement better, this feature allows you to go further with your comfort. So, not only do you have a great seat that you have the power to adjust to your liking, now the temp can be set at what works best for you. It really does feel like luxury stacking on top of luxury.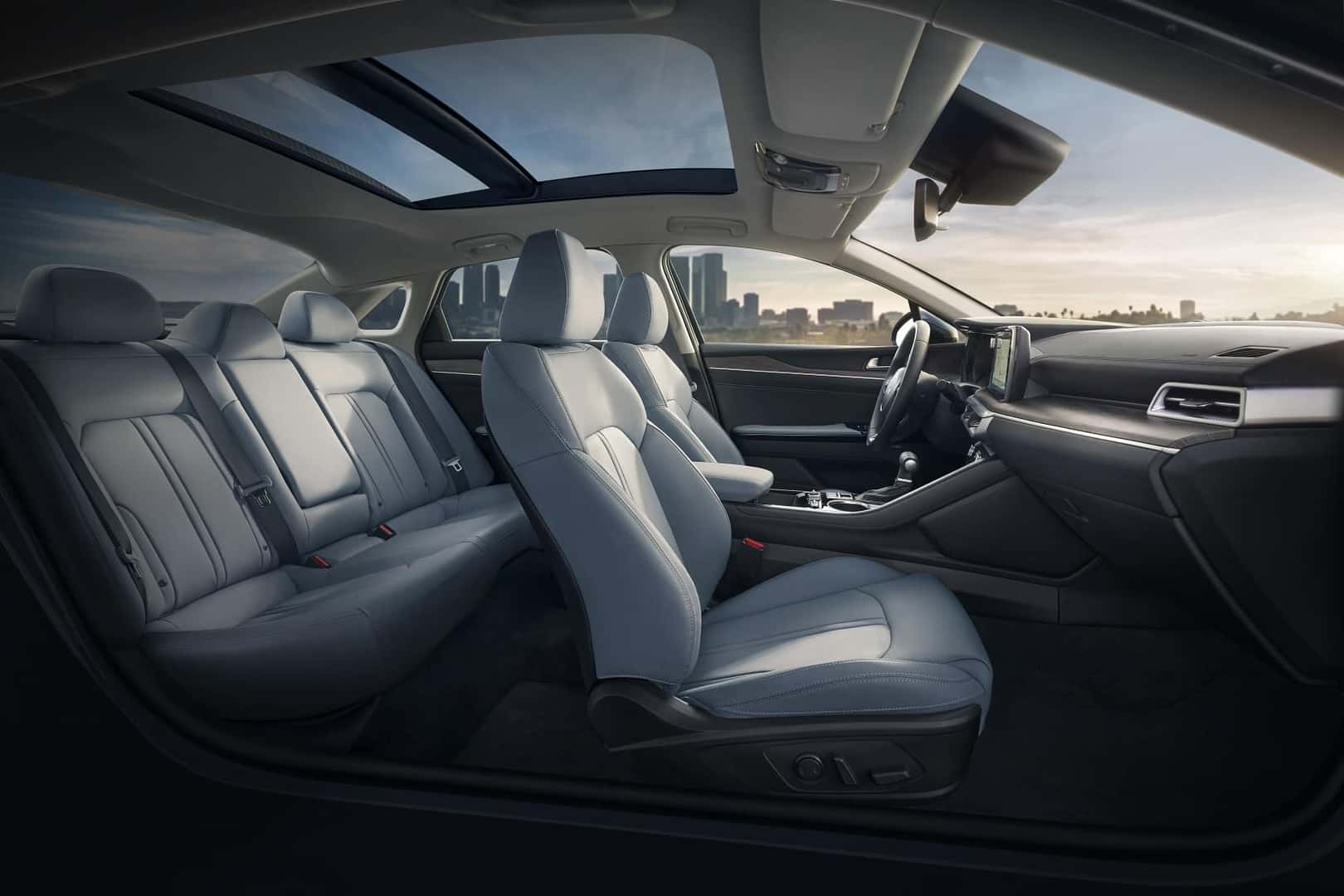 The Kia K5 has a passenger volume of 105.3 cubic feet. It provides up to 40.2 inches of headroom and 46.1 inches of legroom for front passengers. For rear passengers, they'll get 37.8 inches of headroom and 35.2 inches of legroom.
Every passenger gets the space they need for complete comfort, but especially in the driver's seat. This is where you need the space to operate with confidence knowing everything is within reach and easy to access without much effort.
That sense of complete comfort is extremely important for when you bring along family or friends on your adventures. Because driving is a team sport, you'll want everyone enjoying themselves together while you're at the wheel. Being able to stretch out your legs regardless of position within the cabin is important to keep in mind. When everyone can relax during the trip, the atmosphere is friendlier and more excited.
---
Plenty of Cargo Space
You may not think of a Kia midsize sedan for its interior space and efficient function. Looking at it, you may not assume there is a lot of cargo space available to pack everything you need for your travels.
Opening up the trunk of the 2022 Kia K5 may certainly surprise you. This spacious trunk provides a maximum cargo capacity of 16 cubic feet. In this space, you'll have room for everything you need—from groceries to luggage and everything in between. Make your travels easier with plenty of room to take the items most important and essential to your trip with you.
Another measurement to keep in mind is the total interior volume, which is 121.3 cubic feet. As we've noticed, the passenger volume is 105.3 cubic feet. Even with all passengers seated, you still have a good chunk of space left to utilize. Going on a solo trip? Then you've got much more of that total interior volume to work with. While the trunk can hold the big toys, don't forget that the cabin itself can hold an astounding amount of personal items or other materials.
---
Schedule a Test Drive Today
A Kia vehicle has a lot to offer drivers when it comes to comfort and interior features. You will definitely want to take a closer look and see for yourself what the new Kia K5 has to offer.
Contact our team or visit us today at The Kia Store and schedule a test drive to not only experience the way this Kia rides, but also the features inside. We want to help get you on the road near Louisville and Elizabethtown, Kentucky, and Clarksville, Indiana.