---
The Kia Store has drawn up the following information to help drivers in Louisville, Kentucky, Elizabethtown, Kentucky, and Clarksville, Indiana, determine whether or not the new Kia K5 is the right mode of transportation for their specific lifestyle needs.
Considering that the K5 has replaced the Optima in the Kia lineup, we thought it would be appropriate to show you how it compares to that impressive model. Whether the Kia Optima was your previous set of wheels or not, you're sure to view the K5 as a worthy successor.
---
The Kia K5 and the Kia Optima: A Look at Interior Dimensions
First, we'll take a look at the sort of comfort you can expect to get out of these two Kia sedans. Examine the following table:
Headroom

(Front / Back)

Shoulder Room

(Front / Back)

Hip Room

(Front / Back)

Legroom

(Front / Back)

Kia K5
40.2/37.8 in.
58/56.1 in.
56.6/56.6 in.
46.1/35.2 in.
Kia Optima
39.8/37.8 in.
58.1/56.4 in.
56/56 in.
45.5/35.6 in.
When it comes to offering you and your passengers a spacious ride, both models boast measurements that are certainly worthy of your time. For instance, both the K5 and the Optima supply your back-seat passengers with 37.8 inches of headroom. They also have similar numbers for front and back-seat shoulder room and back-seat legroom.
Ultimately, it's the Kia K5 that comes out on top by supplying its occupants with superior front-seat headroom, front and back-seat hip room, and front seat legroom measurements.
---
The Performance Comparison

The K5 uses two engines to make sure you're able to choose the one that matches your priorities the best. These are listed below for your consideration:
Turbocharged 1.6L 4-Cylinder Engine
Turbocharged 2.5L 4-Cylinder Engine
The 1.6L engine is the one that comes standard. With it, you can expect to make use of 180 horsepower. The available 2.5L engine can produce an even more impressive output totaling up to a beastly 290 horsepower. Between these two high performers, you're bound to find the right pick for your preferences.
The highest output that you could expect to get from the Kia Optima was 245 horsepower. While this is certainly capable of helping you take on any challenges successfully, the K5 is undeniably the superior option when it comes to engine capabilities.
---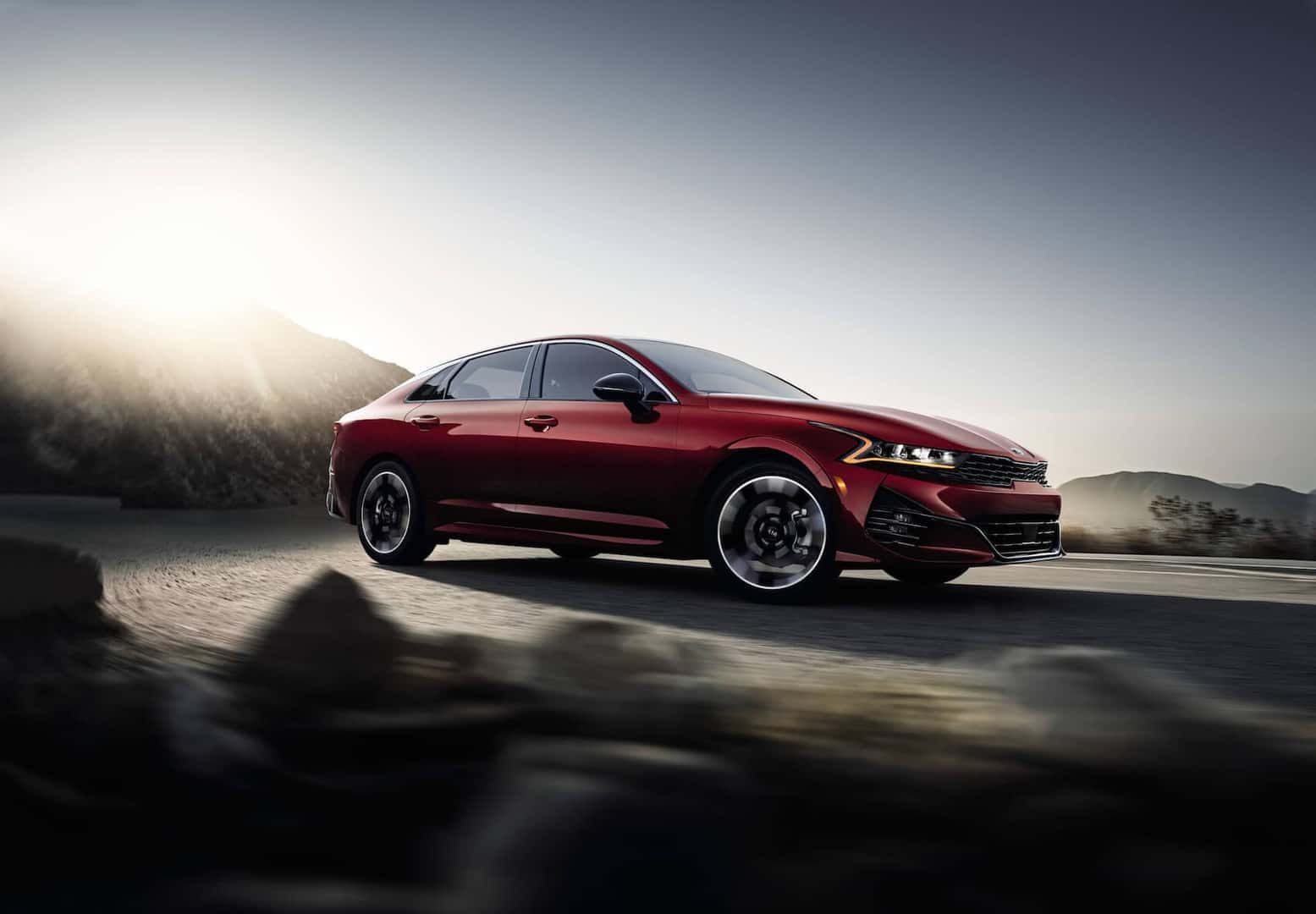 The Kia K5 and the Kia Optima: Touches of Convenience
The K5 continues to make your driving experience a notably accommodating one as we move on to the topic of convenience. Highlights found in both include the fact that each Kia car allows you to continue to direct the bulk of your attention toward the road ahead while you're making the necessary adjustments to the controls in front of you. They both make this possible by coming standard with 8-inch touchscreens that offer easy and quick access.
However, the K5 makes accessing the dashboard controls even easier due to its significantly larger 10.25-inch available touchscreen.
---
Schedule Your Kia K5 Test Drive Today
Now that you have a better idea of what the 2021 K5 has to offer your regular drives near Louisville, KY, Elizabethtown, KY, and Clarksville, IN, you're ready to take the next step. Our team is standing by to assist you in any way they can. Stop by or contact us at The Kia Store to take the Kia K5 for a test drive and find out once and for all if it's right for you.