Kia Safety Features

Safety is becoming more of a priority for the auto industry, with more and more brands putting a full effort into improving standard safety equipment and advanced driver aids. At the forefront of this change is Kia, a brand that's continually advancing its safety technology to make the drive safer and more protected.
Drivers in Louisville, Elizabethtown, and Clarksville can find out more about the Kia safety features and ratings with our in-depth safety review.
Kia Safety Ratings

The National Highway Traffic Safety Administration (NHTSA) and the Insurance Institute for Highway Safety (IIHS) are the two main organizations that perform rigorous safety testing to determine a vehicle's ability to prevent collisions and protect its occupants if one occurs. Both organizations use a rating system for comparison.
As a brand, Kia vehicles consistently perform well in both NHTSA and IIHS safety testing, often earning perfect scores. On top of that, both the 2019 Kia Optima and the 2019 Kia Sorento earned the 2019 TOP SAFETY PICK+, the IIHS's coveted award for vehicles that exceed safety expectations.
Quality Safety Features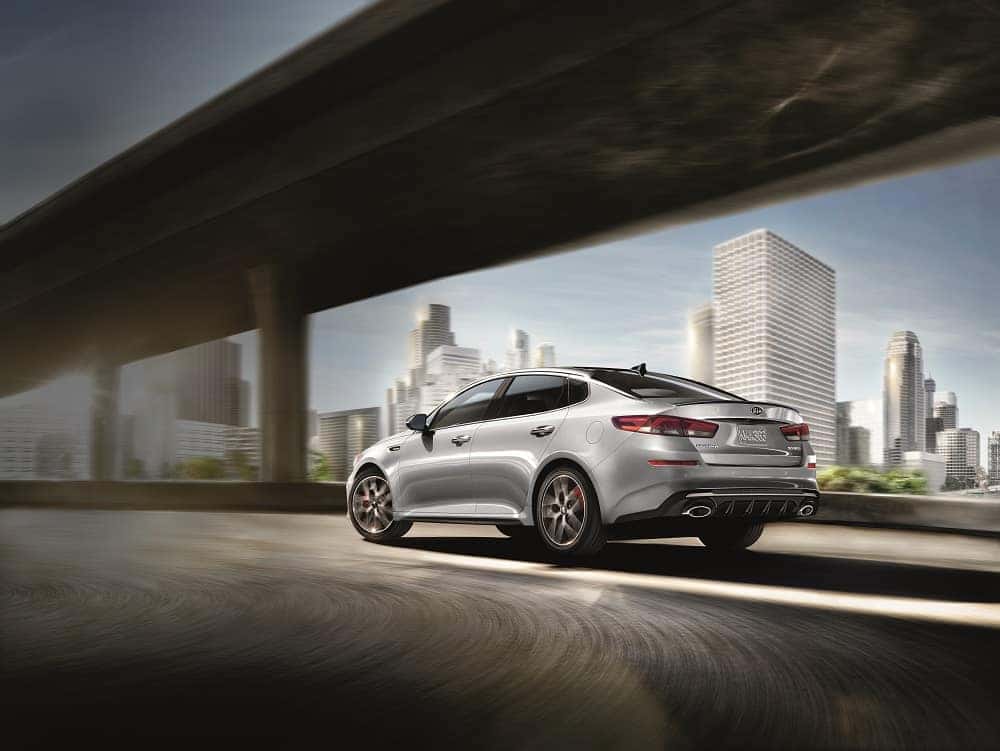 Kia vehicles come with a complement of safety equipment to provide protection in crash scenarios. Depending on the model, these safety features are either standard or available.
In addition to Kia's award-winning airbag technology and Lane Departure Warning, you'll find the following:
Rear-Camera Display
Forward Collision Warning System (FCWS)
Lane Keep Assist System (LKAS)
Also, Driver Attention Warning is a unique feature that's available for many models. This feature records and tracks normal driving patterns to determine parameters, so if it senses inattentive driving, it can warn you to take a break. If you spend a lot of time on the road, this is an essential safety feature.
More Quality Safety Features

Blind Spot Detection (BSD) with Rear Cross Traffic Alert (RCTA) are two more essential features that are available in many Kia vehicles. They work together to monitor spots on your Kia vehicle with limited visibility, letting you know if vehicles or pedestrians may be hidden from your field of vision.
In addition, Smart Cruise Control (SCC) is a combination of safety and convenience. This feature automatically adjusts your cruise speed to maintain the appropriate follow distance from the vehicle ahead, keeping you in the normal flow of highway traffic. This is helpful to have on crowded highways since you won't need to make adjustments to your cruise control speed as traffic patterns change.
LED headlights with Low Beam Assist are useful features to enhance lighting—the headlights help illuminate the road ahead, and the Low Beam Assist helps track with your steering angle and speed to improve directional lighting. High Beam Assist automatically dims the headlights when an oncoming vehicle is approaching and then goes back to the high-beam setting once the vehicle has passed.
Explore Kia Safety
Kia safety technology is some of the most impressive on the market, giving drivers the added peace of mind of knowing they have additional protection and awareness on the road.
Drivers in Louisville, Clarksville, and Elizabethtown can find out more about the Kia safety features and technology by visiting The Kia Store. Call or stop by today for a demonstration of the Kia safety technology!