2019 Kia Sorento vs Hyundai Santa Fe
It's a battle of the SUVs! The 2019 Kia Sorento and Hyundai Santa Fe are both deluxe vehicles with room and seating for the entire family, making them the perfect SUVs to compare.
The Kia Store has created this helpful comparison of the Kia Sorento and Hyundai Santa Fe to help drivers in Louisville, Elizabethtown, and Clarksville decide on their next car. Read through our review, including a breakdown of the engines, interiors, and Kia Sorento configurations to find out which car will come out on top!
2019 Kia Sorento vs Hyundai Santa Fe: Engine Specs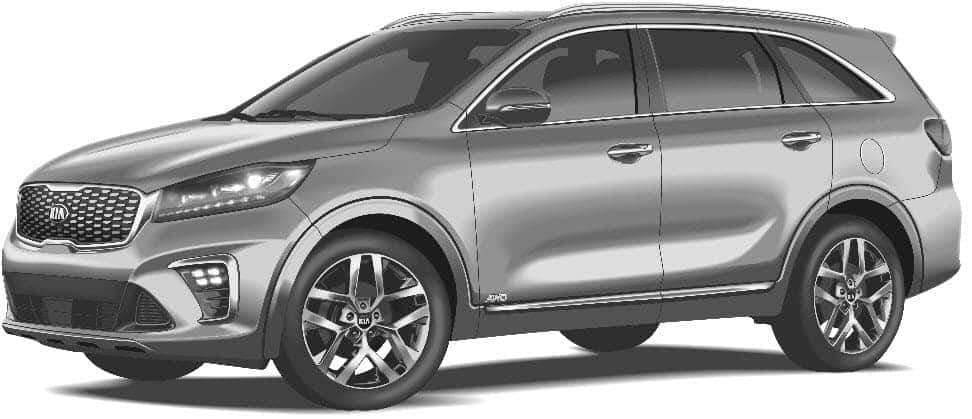 When it comes to comparing these two SUVs, we should start with the basics. The 2019 Kia Sorento and Hyundai Santa Fe each offer two different engines so that you can choose your blend of power and fuel efficiency. The engines found in these two vehicles are very similar but do have some noticeable differences.
The standard engines found in both vehicles offer the same power and even fuel efficiency. When you upgrade to the more powerful engines, though, the Kia Sorento comes out ahead.
Kia Sorento: 3.3-liter V6 290-horsepower engine
Hyundai Santa Fe: 2.0-liter Turbo 4-cylinder 235-horsepower engine
The more powerful available engine in the Sorento also aids in it having a larger maximum towing capacity of 5,000 pounds, whereas the Santa Fe can only handle 3,500 pounds maximum. Your small RV can make the trip with the Sorento but will probably have to stay home with the Santa Fe.
Room for the Whole Family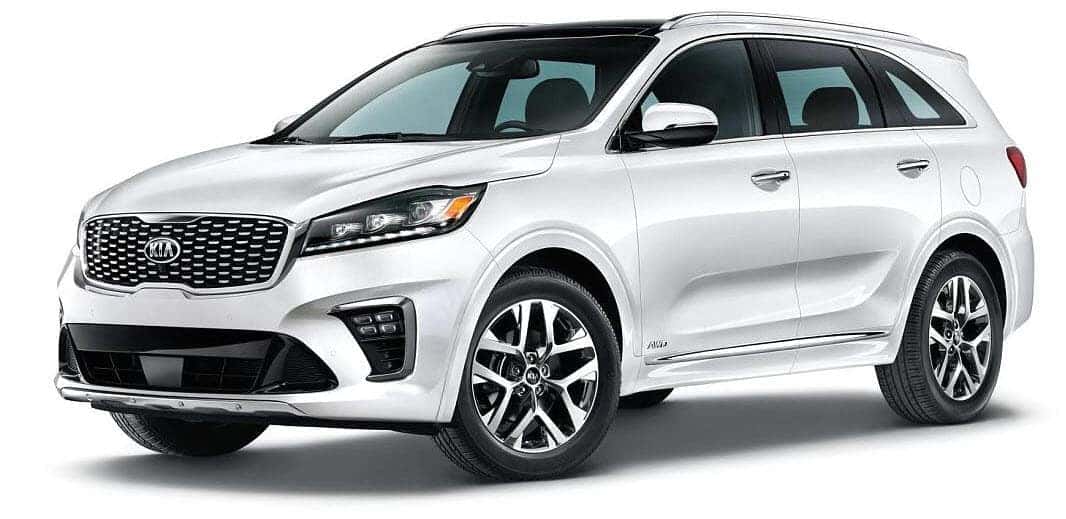 With seating for seven, these SUVs make an ideal family vehicle. Although both the 2019 Kia Sorento and Hyundai Santa Fe offer 7-passenger seating, it's only standard on the Sorento. You must upgrade to a higher trim on the Santa Fe to achieve this seating option as 5-passenger seating is standard.
A comfier ride is far more enjoyable, and when you're spending a long time in your car you want to make sure you're not cramped. The Sorento boasts a total passenger volume of 154.2 cubic feet compared to the 110.7 cubic feet found in the Santa Fe. This extra room allows for your passengers to spread out during a road trip.
The Sorento also provides plenty of room for your camping equipment or fishing supplies with a maximum cargo volume of 73.0 cubic feet. The Santa Fe is smaller at only 71.3 cubic feet of cargo room.
Related Post: 2019 Kia Sorento Trim Level Options
Available Amenities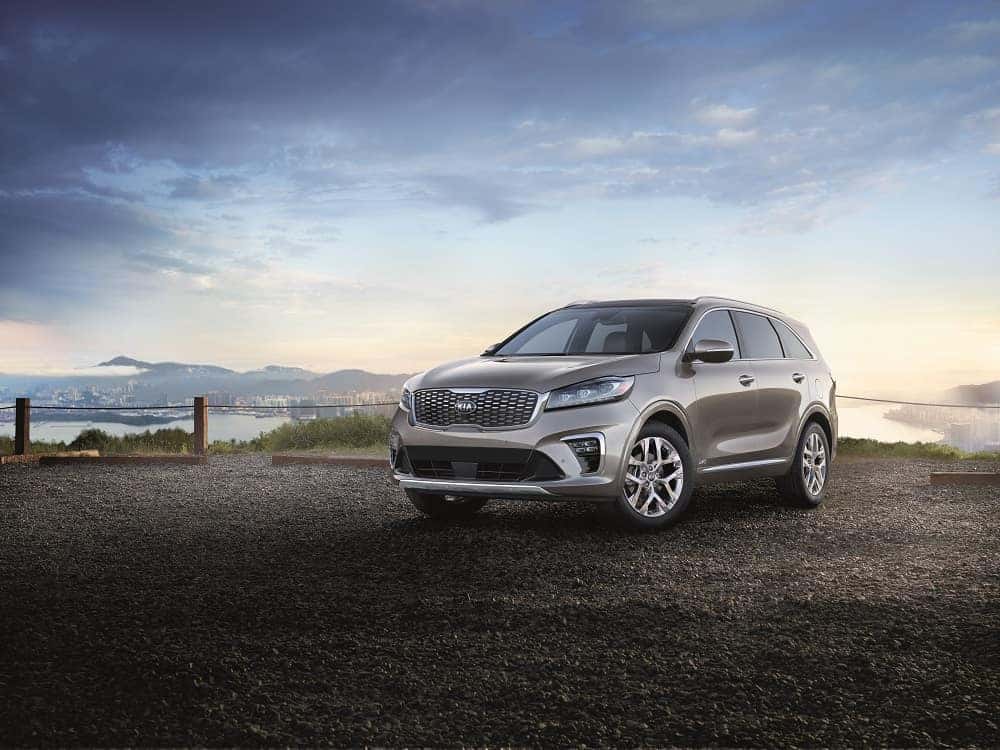 The 2019 Kia Sorento and Hyundai Santa Fe offer numerous features so you can find the amenities you are looking for.
Standard on both vehicles is a 7-inch Touch-Screen Display and Remote Keyless Entry. As you progress through the trim levels, these SUVs offer wireless phone charging, a Smart Power Liftgate, and deluxe sound systems like the Harman/Kardon® Premium Sound System.
The Kia Sorento, however, does offer some features that are not available on the Santa Fe, such as:
EcoMinder® Fuel-Efficiency Indicator: Indicates when you are achieving optimum fuel economy. This standard system tips you off when you need to adjust your driving habits to achieve better fuel efficiency.
Smart Shift & Drive: This standard technology automatically selects the optimum drive mode (NORMAL, ECO, or SPORT) to suit the conditions that it senses for a customizable driving experience.
When it comes to interior accommodations, the Kia Sorento has more available than the Santa Fe. You might find those upgrades really improve your driving experience.
Which SUV is the Winner?
These two cars are very similar when it comes to standard engines, however the 2019 Kia Sorento edges out the competition. When it comes to towing capacity, cargo space, and amenities, the Santa Fe just can't compete.
Now that you have read about how the Kia Sorento matches up against the competition, it's time to take a test drive. Experience all the Sorento has to offer at The Kia Store. Drivers in Louisville, Elizabethtown, and Clarksville can stop by today and schedule a test drive!