Kia Soul vs Hyundai Kona

We here at The Kia Store strive to do everything we can to make sure drivers near Louisville, KY; Elizabethtown, KY; and Clarksville, IN, have all the information they need to choose the commuter that matches their needs the best. That's why we've put together this side-by-side comparison of the Kia Soul vs. Hyundai Kona. If you're interested in finding out which of these impressive rides is right for you, take a moment to read through our findings.
Kia Soul vs Hyundai Kona: Accessible Technology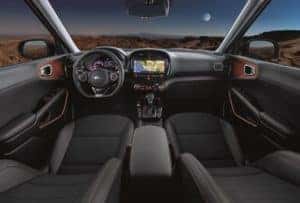 While you're making your way down the road, it's important to be able to see and adjust the controls and settings for your entertainment system and other features easily and quickly. Having a dashboard that was designed so you can devote more of your attention toward the drive itself is likely to be a high priority.
Both of these modes of transportation start out strong in this category. Each one comes standard with a 7-inch color touchscreen display. They're even available with navigation systems that are certain to come in handy if you frequently find yourself driving to new places. However, the Kia Soul manages to pull out ahead by offering an available 10.25-inch display. The largest available screen you're going to find on the Kona dashboard is eight inches.
Comparing Engine Specs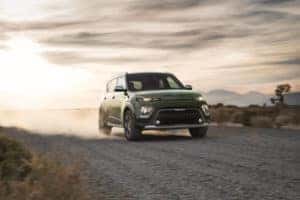 Performance is another area where the Kia Soul and the Hyundai Kona start out on even ground. The engines that come standard under the hood of these models each boast a solid 147 horsepower. With engines like these at your disposal, it'll be easy to hold your own while you're making your way through your daily travels.
The Soul is also available with a second possible engine that can supply you with the necessary edge to make your way from Point A to Point B with relative ease. Its 1.6-liter engine runs on four cylinders and makes use of a turbocharger. The result is that you can look forward to reaping the benefits of a commanding 201 horsepower.
Kia Soul vs Hyundai Kona: Comfort Inside the Cabin
Whether they're your kids or the other half of your double date, the Kia Soul allows for plenty of accommodating space for whomever you're transporting in the back seats. See the table below to find out how the Soul and Kona stack up against one another in terms of comfort in the second row:
| | | |
| --- | --- | --- |
| | Kia Soul | Hyundai Kona |
| Second-Row Headroom | 39.5 inches | 37.8 inches |
| Second-Row Shoulder Room | 54.7 inches | 54.5 inches |
| Second-Row Hip Room | 52.8 inches | 52.2 inches |
| Second-Row Legroom | 38.8 inches | 34.6 inches |
Kia Soul vs Hyundai Kona: The Verdict
With attributes like these, it's pretty clear the Soul successfully outshines the Kona. If what you've just witnessed has you curious about the various ways in which the Kia Soul can contribute to your daily Louisville, Kentucky; Elizabethtown, Kentucky; and Clarksville, Indiana, commutes, you're ready for the next step. Contact The Kia Store today to schedule your Kia Soul test drive.