Kia Telluride vs Toyota Highlander
Is a midsize sport utility vehicle just what you and your growing family need to enjoy those regular Louisville, KY, Elizabethtown, KY, or Clarksville, IN, drives even more? If you're interested in the Kia Telluride and the Toyota Highlander, you're on the right track. Both SUVs offer a lot of admirable attributes.
The Kia Store has drawn up this Kia Telluride vs. Toyota Highlander comparison to give you a hand in narrowing down your search even more. Continue reading to find out which one is right for you.
Learn more in the 2020 Kia Telluride Review!
2020 Kia Telluride vs Toyota Highlander: Performance and Engine Specs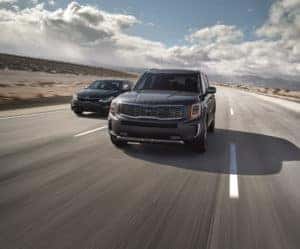 SUVs are designed to perform in any number of conditions. From urban streets to uneven off-road terrain, a good SUV will handle like a dream no matter where you're driving.
The Kia Telluride and Toyota Highlander are both capable, but the Kia Telluride outpaces the competition when it comes to driving dynamics. For starters, the Kia Telluride provides you with a standard drive mode system that features four unique ways of tackling the asphalt: Comfort, Eco, Sport, and Smart.
Meanwhile, the 2020 Highlander serves up a standard drive mode select system, featuring only three modes: ECO, Normal, and Sport. Without the additional driving option offered by the Kia Telluride, you may find it a little more difficult to tailor your vehicle's performance to fit your needs.
Related Post: 2020 Kia Telluride Trim Levels Review
Kia Telluride vs Toyota Highlander: Interior Dimensions
Midsize SUVs are known for their accommodating cabins. These two are no exception. Here is a comparison of some of the measurements you're going to find inside the Telluride and the Highlander:
| | | |
| --- | --- | --- |
| | Kia Telluride | Toyota Highlander |
| First-row hip room | 58.9 inches | 57.2 inches |
| Second-row hip room | 58 inches | 57 inches |
| Second-row headroom | 40.2 inches | 39.4 inches |
| Third-row headroom | 38.1 inches | 36.1 inches |
| Second-row legroom | 42.4 inches | 41 inches |
| Third-row legroom | 31.4 inches | 27.7 inches |
It doesn't matter where you find yourself seated in the Telluride, it will provide you and your passengers with plenty of room to relax and enjoy the ride. In fact, its measurements for hip room, headroom, and legroom are quite a bit larger than the numbers for the Highlander.
In addition to its roomier interior, the Kia Telluride has more features than the Toyota Highlander. Although both the Kia Telluride and the Highlander come equipped with 8-inch touchscreen displays, the Kia Telluride maximizes its interior connectivity with the available 10.25-inch touchscreen. That way, you can easily see all of your controls on one screen. Unfortunately, the Toyota Highlander doesn't present the option of a larger touchscreen.
Related Post: Kia Telluride Interior Review
A Look at Convenience for the Kia Telluride vs Toyota Highlander
Not only does the Kia Telluride offer you a comfortable ride, it also gives you an abundance of stowing potential. It has a cargo space behind the third row that measures at 21 cubic feet and contains more than enough room for such items as golf clubs, shopping bags, and luggage. If you find yourself helping friends or family move a lot, the fact that the maximum cargo volume goes to 87 cubic feet when the second and third-row seatbacks are folded down is sure to be a big help.
The Toyota Highlander doesn't give you quite as much cargo capacity. It has a mere 16 cubic feet behind the third row. It only has 84.3 cubic feet when the second and third rows are folded down.
Highlander vs Telluride: Safety Technology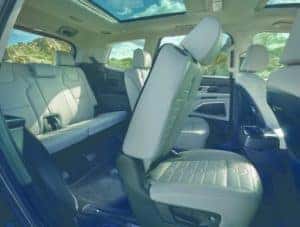 If it's important to you that the vehicle you choose provides you with innovative technology that can really enhance your overall driving experience, the Telluride might be the one for you.
For instance, it comes standard with the Driver Attention Warning that can alert you when your driving behavior helps it determine that it might be a good time for you to pull over and take a break. There's also the available Driver Talk feature that enables you to communicate a lot easier with passengers in the back via the rear speakers. You're not going to find either of these features in the Toyota Highlander.
The Kia Telluride also has Safe Exit Assist (SEA), a standard safety feature that checks your surroundings for potential hazards before you can get out of the Kia vehicle. The Toyota Highlander doesn't have a comparable safety feature, pointing to the Kia Telluride as the overall safer vehicle.
Kia Telluride vs Toyota Highlander: The Results
As you can see, the Telluride simply outshines the Highlander due to its spacious interior, handy conveniences, and advanced technology features. You can get a closer look at these and other Kia Telluride capacities and features by taking it for a test drive. If you're near Elizabethtown, KY, Louisville, KY, or Clarksville, IN, contact The Kia Store today to get started.