Kia Telluride vs Toyota Highlander

The 2020 Kia Telluride is the latest midsize SUV offering from Kia, and it has plenty of excellent features. But how does it fare against its competitors? If you're wondering about how the 2020 Kia Telluride stacks up compared to the Toyota Highlander, you've come to the right place.
Our experts at The Kia Store have put together a handy resource that compares the Kia Telluride vs. the Toyota Highlander. Read on to learn which SUV is ideal for drivers from Louisville, Elizabethtown, and Clarksville!
Learn more in the 2020 Kia Telluride Review!
2020 Kia Telluride vs Toyota Highlander: Performance and Engine Specs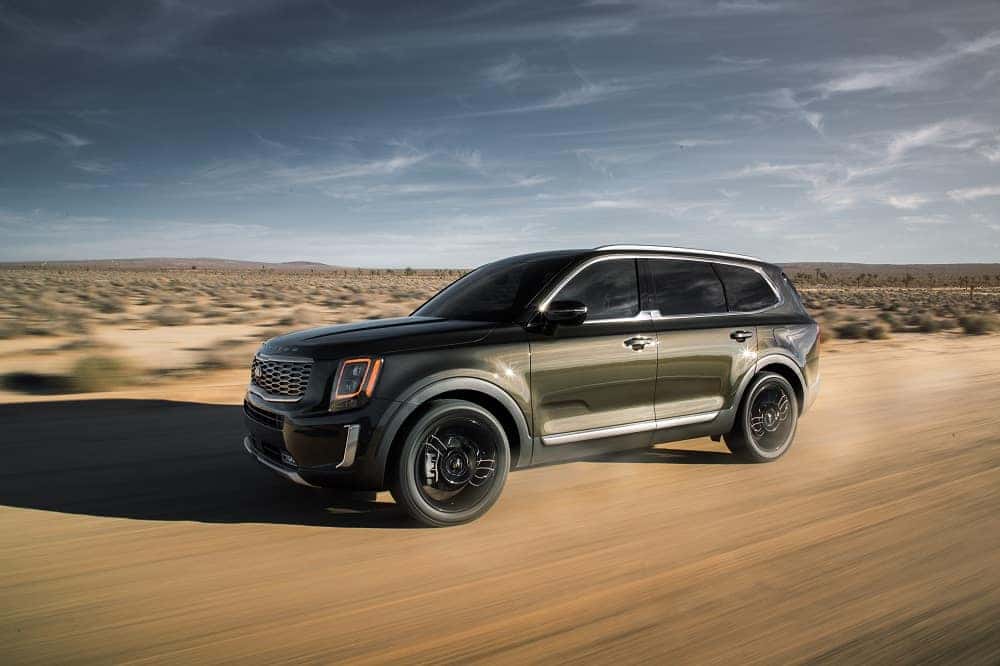 SUVs are designed to perform in any number of conditions. From urban streets to uneven off-road terrain, a good SUV will handle like a dream no matter where you're driving.
The Kia Telluride and Toyota Highlander are both capable, but the Kia Telluride outpaces the competition in the engine department. The Kia Telluride base trim comes standard with a 3.8L V6 engine that produces 291 horsepower and 262 lb-ft of torque. The base Toyota Highlander trim has a 2.7L 4-cylinder engine that only produces 185 horsepower and 184 lb-ft of torque. When it comes to accelerating, merging, and sailing down the highway, the 2020 Kia Telluride has a clear advantage.
Not only does the Kia Telluride have a more powerful engine than the Toyota Highlander, but it's also much more capable when it comes to towing trailers and other objects. When properly equipped, the Kia Telluride has a maximum towing capacity of 5,000 pounds, ideal for small recreational boats and trailers. The Toyota Highlander base model only offers 1,500 pounds of towing capacity when properly equipped, giving the Kia Telluride a considerable edge among drivers who plan on getting the most out of their SUV.
Related Post: 2020 Kia Telluride Trim Levels Review
Interior Space and Infotainment Tech

One of the biggest advantages SUVs have is that they're spacious. The Kia Telluride is plenty roomy, with 178.1 cubic feet of interior passenger volume, outclassing the 144.9 cubic feet found in the Toyota Highlander.
In addition to its roomier interior, the Kia Telluride has more features than the Toyota Highlander. Standard in the Kia Telluride LX is an 8-inch touchscreen display with Apple CarPlay™ and Android Auto™ support. Inside the base Toyota Highlander trim, there's only a 6.1-inch touchscreen. With its larger screen and audio service functionality, the Kia Telluride has a notable edge when it comes to on-board entertainment.
Related Post: Kia Telluride Interior Review
Safety at a Glance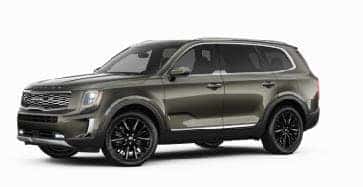 Both the Kia Telluride and Toyota Highlander have an excellent suite of safety features. However, there are a few safety technologies included standard with the Kia Telluride that stand out from the competition.
For example, the Kia Telluride has Safe Exit Assist (SAE), a standard safety feature that checks your surroundings for potential hazards before you can get out of the Kia vehicle. The Toyota Highlander doesn't have a comparable safety feature, pointing to the Kia Telluride as the overall safer vehicle.
2020 Kia Telluride vs Toyota Highlander: Schedule a Test Drive Today!
In comparing the Kia Telluride vs. the Toyota Highlander, it's clear that the Kia Telluride has numerous advantages. It's more powerful, roomier, and includes beneficial safety features.
If you're a driver in Louisville, Elizabethtown, or Clarksville and you want to learn more about the 2020 Kia Telluride, stop by The Kia Store and schedule a test drive today!