Oil Change near Me


Most drivers across the Louisville, Elizabethtown, and Clarksville area are well aware that their vehicle requires an oil change a couple times throughout the year. However, when it's time to have your oil changed, finding a reputable dealership or service center nearby is important. At The Kia Store, we're happy to help drivers keep their vehicles on the road by getting the necessary services that they need, like an oil change near you.
Keep reading to find out why getting an oil change near you is important.
The Functions of Oil in Your Engine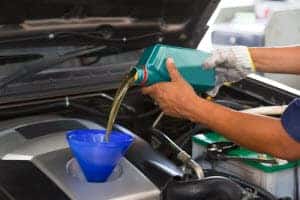 Oil serves a few crucial functions in your engine. Since your engine is made up of several moving metal parts and components, they grind against each other, which can result in friction that could potentially leave your engine overheating. Oil acts as a lubricant for these parts so they can continue their motions without resulting in overheating or causing issues.
Oil also keeps these moving parts cool, to reduce the friction from affecting your engine. Another major function that oil has is keeping the metal parts clean and free from debris. It picks the debris and dirt up while these parts are in motion, which over time, results in oil's discoloration from golden brown to black and sludgy.
When to Change My Oil?
The oil change intervals vary, depending on a few factors like how old your car is, how often you drive, and of course, what type of oil your vehicle takes. Drivers who travel longer distances each day will have more frequent oil changes, whereas a driver who has a short commute will have longer intervals until it's time to have their oil changed.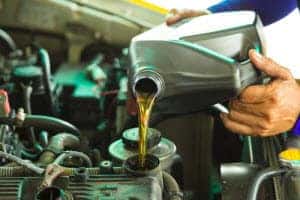 Usually, tracking your recommended oil change mileage and keeping an eye on your odometer is the best way to know when it's time to change your oil, however, there are a few signs to take note of that means you should schedule your service as soon as possible.
Unusual Engine Sounds: If you hear knocking and clunking, it means that your oil is old, dirty, and less effective at its lubrication, cleaning, and cooling functions.
Dark Oil: If you regularly check your dipstick, it's a great way to assess the quality of your engine oil, as well as its level. If you notice that the oil is dark and gritty, it may be time to schedule your oil change.
Check Engine Light: This dashboard warning light is a pretty good indicator that your oil life is coming to an end and it's time for a change.
Sluggish Performance: Considering that oil helps keep your vehicle's performance efficient, old oil tends to show a drop in not only the smooth performance, but also the fuel efficiency.
Scheduling an Oil Change near Me
When you've noticed that your recommended oil change mileage has popped up, you've kept track of your last oil change, or you're now noticing the signs listed above, you'll want to schedule an oil change nearby. At The Kia Store, we're here to help you get the most out of your vehicle and its performance, so you can schedule your oil change at one of our service centers! We'll have you back on the road in no time.
At The Kia Store, we're proud to help drivers in Louisville, Elizabethtown, and Clarksville keep their vehicles in great shape and performing at their best.