Best Bridal Shops near Louisville KY

There's nothing more exciting and nerve-wracking than getting married. You've got to choose the venue, the photographer, the caterer, the design for the invitations… It can be a bit overwhelming. However, the most important decision that you need to make is with the dress, so it's great to have a few bridal shops close by to give you a sense of your options.
Here's a list of the best bridal shops near Louisville, KY, where you can find the perfect dress!
Couture Closet Bridal Boutique
123 East Main Street, La Grange, KY                                                                                       Facebook                    Instagram                    Pinterest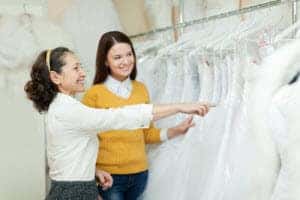 The wedding dress is one of the most important pieces of the puzzle, and Couture Closet Bridal Boutique has the piece that fits. They've got various styles from all the important designers like Lillian West, Lis Simon, and Hailey Paige, among many other great brands. They also have a vast selection of accessories, jewelry, and even fun décor that you can use in your "getting ready" photos on your big day! Drop by to take a look around, or schedule an appointment to get the right assistance you need to make the second biggest decision of your life!
Elizabeth Crum Bridal
1000 Swan Street, Suite 1, Louisville, KY                                                                                Instagram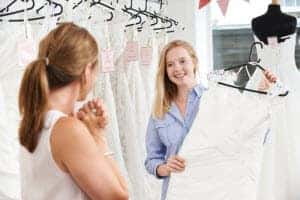 Finding the right design studio involves two things: the selection and the team that's there to help you along to your perfect dress. Elizabeth Crum Bridal is a design studio and showroom that offers up a plentiful selection of dresses, spanning from high-end designers, as well as some rare finds that may make the perfect dress. Their team is dedicated and helpful at ensuring that it's the proper fit. They have tailors on-site that can make the right alterations, so when the day comes for you to walk down the aisle, you'll feel like the dress was specifically made for you.
Sher's Bridal
309 North Evergreen Road, Louisville, KY                                                                              Facebook                    Instagram                    Pinterest
If you're looking for an award-winning bridal boutique, Sher's Bridal may be the place you're looking for. They earned five stars with WeddingWire for Couple's Choice Awards and they were even the 2018 pick for Best of Weddings with The Knot. They carry plenty of designers, including Maggie Sottero, Rebecca Ingram, Justin Alexander, and Val Stefani. You can not only choose your perfect wedding dress, but you can also find dresses for your bridesmaids, so your dream wedding can be a reality. You can stop by to take a look around, or schedule an appointment to have the experts show you around and help you decide on your wedding dress.
When it's time to plan your wedding and choose the perfect dress, you've got some best bridal shops near Louisville, KY, to choose from.