2021 Kia Soul Technology Review

A modern driver requires a modern set of wheels. A frontrunner for advanced tech, the 2021 Kia Soul is a top-of-the-line subcompact crossover SUV featuring a plethora of new systems. Our team at The Kia Store has put together a review of Kia Soul technology that is sure to showcase just what makes it special.
With four convenient locations near Clarksville, Indiana, and Louisville and Elizabethtown, Kentucky, you'll be able to decide what the right choice is for you.
Safety Behind the Wheel
For our team at Kia, security on the road is our top priority. With an internal Iso-Structure™, the 2021 Kia Soul puts your safety first.
The steel maintains rigidity even in difficult driving situations. Not only is protection built in the body of the machine, but the Kia Soul also boasts a series of impressive systems that work in tandem with its internal structure to maximize safety.
These include:
Traction Control System (TCS): Traction control is an active system that checks if a driver's wheels are losing traction, particularly in wet conditions. It works to correct traction loss.
Electronic Stability Control (ESC): Cornering maneuvers are made easier with ESC, which is an individual braking system for each wheel.
Vehicle Stability Management (VSM): Enhances the stability and steering responses of your Kia Soul.
Kia Drive Wise carries available features like forward and rear collision-avoidance assist, blind spot monitoring, lane keeping, as well as smart cruise control. With these systems employed, the 2021 Kia Soul scans the road to keep you safe.
High-Tech Road Runner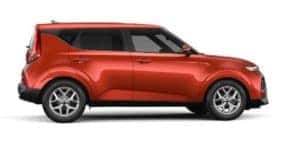 Innovation is important to us. With such amazing advancements made every day, Kia likes to stay on top of tech, and that's reflected in their machines. The 2021 Kia Soul is your all-access pass to an ultramodern ride with everything you might need for your next adventure.
Navigation is made simpler with a standard 10.25-inch color touchscreen. Use split view to monitor the road and hook up two Bluetooth® connections at the same time. Standard Apple CarPlay® and Android Auto™ mean you can listen to your favorite music, and available wireless charging keeps your device from running low on battery!
Connectivity
Stay in tune with the Kia Access App and available UVO link! Compatible with your smartphone, it ensures you're connected to everything inside your Kia Soul. Control your interior temperature before you even step outside, keep up to date with important notifications, and do so much more.
Some features are:
Remote Start with Climate Control
In-Vehicle Notification Center
911 Connect and Roadside Assistance
Amazon Alexa
Google Assistant
The tech marvels don't stop with just convenience. With the available UVO link, you can connect to your in-house Alexa or Google Assistant. You'll be living in the future with remote-spoken commands!
2021 Kia Soul Technology: Overview
With such state-of-the-art features, Kia has made driving safer and easier than ever. Technology is advancing every day, and this review is one small part of it—whether you need wireless charging or mood lighting, it's available in the 2021 Kia Soul. Its build, connectivity, and Drive Wise systems show that what's inside counts.
Don't wait for the next generation of new-age wheels! Schedule a test drive with us at one of our four locations near Clarksville, Indiana, and Louisville and Elizabethtown, Kentucky. The Kia Store has what you're looking for.
Be inspired by Kia!
‬