When looking for the next vehicle to help you make your way around the Louisville, KY, Elizabethtown, KY, and Clarksville, IN, areas, we're guessing you've come across the Kia Soul and the Honda Fit in your research. We here at The Kia Store would like to help you determine which one of these is the better choice for your particular priorities, lifestyle needs, and sensibilities.
There's certainly no denying that both of these models are modern, stylish, and spacious. You can be certain that these great rides will have what it takes to successfully assist you in all of your daily driving needs. However, which one is going to be the right one for you and your specific sensibilities?
To fill you in on just what the Kia Soul and Honda Fit are all about, our team of experts has put them side by side in this helpful vehicle comparison. Continue reading to learn everything you need to know about each vehicle, and find out which one will match up with your daily driving needs best.
>>> Learn more in the full Kia Soul Review! <<<
---
Kia Soul vs Honda Fit: Space for All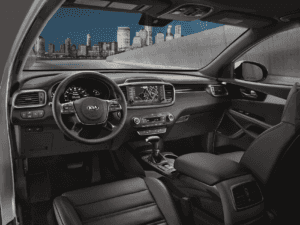 One thing you can look forward to from these accommodating modes of transportation is the fact that they both feature plenty of space inside the cabin. In fact, there are ample amounts of passenger space and cargo space inside the Kia Soul and the Honda Fit. Whether you choose to use your cruiser as a family-friendly vehicle or you're riding solo, you'll have tons of room at your disposal for all of your various adventures.
In both the Kia Soul and the Honda Fit, you'll have room for backseat riders of all sizes. So, pick up a few extra soccer players for the big game, or some friends for a night out on the town. These models definitely have the wiggle room they'll need.
The Kia Soul has a passenger volume that measures at 102.2 cubic feet. The passenger volume over in the Honda Fit falls considerably short by coming in at 95.7 cubic feet. Take a look at the measurements below to find out how each one does in terms of hip room and shoulder room:
| | | |
| --- | --- | --- |
| | Front Hip Room / Rear Hip Room (inches) | Front Shoulder Room / Rear Shoulder Room (inches) |
| Kia Soul | 53.5 / 52.8 | 55.5 / 54.7 |
| Honda Fit | 51.5 / 45.1 | 54.8 / 52.6 |
These numbers make it clear that it's the Soul that successfully sees to it that everyone on board can sit back, relax, and get comfortable. Whether you're heading out on a double date or dropping your kids off at school, the Kia Soul has you covered.
Additionally, with all of that extra passenger space, you're probably wondering just how "compact" these sets of wheels are when it comes to cargo space. You'll get 62.1 cubic feet of cargo space in the Soul and 52.7 cubic feet of cargo space inside the Fit when you fold each vehicle's backseats down. This makes the Kia Soul the obvious choice when it comes to loading up the luggage or even helping a friend out with moving.