Kia Seltos vs Ford Escape

Do you have your eye on the Kia Seltos and the Ford Escape? While both possess several attributes that are sure to contribute to your regular Clarksville, Indiana, Louisville, Kentucky, and Elizabethtown, Kentucky commutes, the fact is you can only choose one. To help you make your decision, The Kia Store has provided you with this Kia Seltos vs. Ford Escape comparison. Continue reading to learn what each one has to offer.
Learn more in the Kia Seltos Review!
Learn more in the Kia Seltos Interior Review!
Learn the Kia Seltos Technology Features!
Learn the Kia Seltos Maintenance Schedule!
Learn the Kia Seltos Trim Levels!
Kia Seltos vs Ford Escape: Overall Size
While both of these rides look similar in size, there are actually a few differences that are worth examining further. Take a look at the table below to find out how they compare to one another in terms of length, width, height, and wheelbase:
| | | | | |
| --- | --- | --- | --- | --- |
| | Length | Width | Height | Wheelbase |
| 2022 Kia Seltos | 172 inches | 70.9 inches | 63.6 inches | 103.5 inches |
| 2021 Ford Escape | 180.5 inches | 85.6 inches | 66.1 inches | 106.7 inches |
These exterior measurements show that the Seltos is the smaller of the two. This fact is beneficial because it provides you with superior cornering abilities when you encounter tight turns.
Safety Characteristics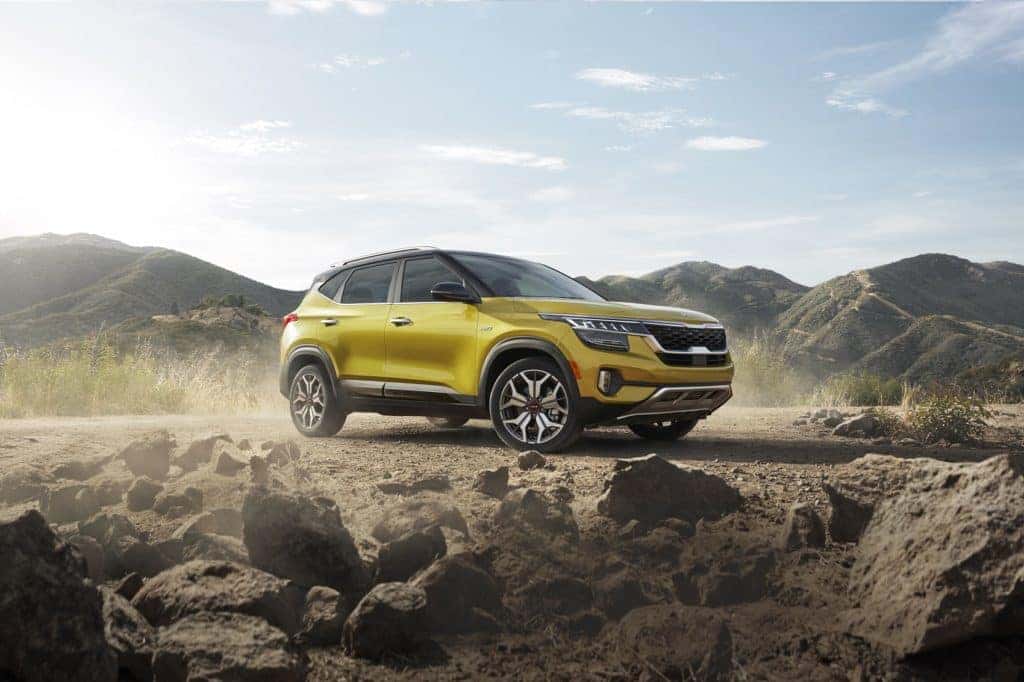 Safety is another area where you're going to find the Kia Seltos to be on top. For example, it comes standard with the Driver Attention Warning (DAW). This feature comes in handy during long drives by letting you know when your driving behavior is suggesting that you're distracted. In the event this is due to fatigue, you have the opportunity to decide if it's a good time to pull over to get some rest. The DAW is not something that you're going to find in the 2021 Ford Escape.
Other items that only the Seltos has are the Rear Occupant Alert (ROA) and the Safe Exit Assist (SEA). The ROA is a standard piece of equipment for the Seltos. It reminds you to check the backseat for small children and pets when you arrive at your destination. The available SEA is a big help as well. This one prevents your passengers from departing when a fellow commuter is driving past.
Convenience Features
This is another category that ends up as an item in the pro column for the Kia Seltos. If it's important to you that you're able to access various dashboard controls and settings easily and quickly while still being able to keep track of all the action on the road; you're bound to appreciate the Seltos' 10.25-inch touchscreen. Unfortunately, the Escape only offers a maximum touchscreen size of eight inches.
Kia Seltos vs Ford Escape: The Choice Is Yours
While both of these daily drivers are built to impress, the above Kia Seltos vs. Ford Escape comparison shows that it's the Seltos that comes out on top. If you agree that it's the one that gives you the best advantage for your everyday drives around Clarksville, IN, Louisville, KY, or Elizabethtown, KY, contact The Kia Store at your earliest convenience. The first thing we'll do is help you set your Kia Seltos test drive up for a day and time that fits in the best with your schedule.